If you're dreaming of eloping in Washington state, these are some of the best locations for you to stay! Imagine getting ready for your wedding day while listening to the river rushing by outside. Going on a hike to your ceremony location or kayaking straight from the front door of your Airbnb. Ending the day with a campfire or a soak in a hot tub. Here are some of the best Airbnb's in Washington for your elopement day- all of these properties have the potential for an epic elopement!
The Klickitat Treehouse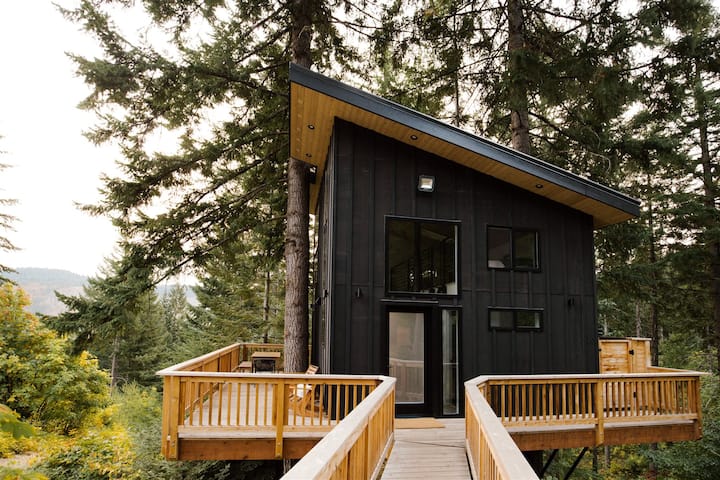 Location: White Salmon
Price: $400/night
Guests: 6
Located near Gifford Pinchot National Forest, this stunning treehouse is surrounded by too many waterfalls to choose from for your elopement; Falls Creek Falls, Panther Creek Falls, and Iron Creek Falls are a few of my personal favorites and they are usually accessible year-round. Also close by is the Columbia River Gorge where there are even more waterfalls, or hike high above the Columbia River to get views of the mountains surrounded by wildflowers in the spring! For more adventurous folks, you can go white water rafting or kayaking on the White Salmon River over the tallest raftable waterfall in the United States!
House Upon the Sand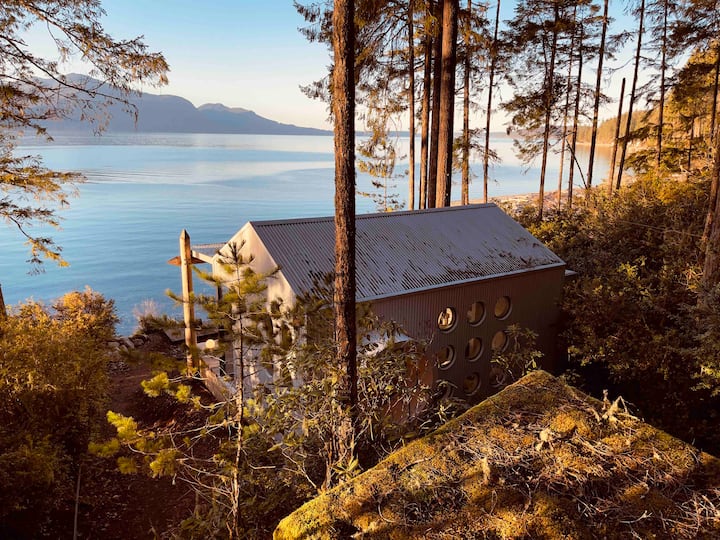 Location: Seabeck
Price: $355/night
Guests: 2
Private beachfront access close to Olympic National Park! Imagine sitting in this hot tub and watching the sunset as part of your elopement day! Murhut Falls is located nearby and would be an excellent spot for your ceremony. Also located close to many of the beaches in Olympic National Park! Plenty of opportunities for hiking and kayaking nearby
Heartwood Cabin at Mt. Rainier
Location: Packwood
Price: $279/night
Guests: 5
Mt. Rainier National Parks is my personal favorite, with so many different hikes to choose from. Located close to the Paradise side of the mountain, the Skyline trail offers incredible views of the mountain and wildflowers in the summer. Also close by are many different fire lookouts, with the possibility of staying in one for your wedding day! If you're looking for more places to stay at Mt. Rainier check out this post!
Canyon Creek Cabins
Location: Granite Falls
Price: $264/night
Guests: 2
Located just over an hour from Seattle, this spectacular cabin is located on a river and surrounded by forest, a perfect place for an elopement. There is nothing cozier than a hot tub in the forest with the sound of the rushing river. With Mt. Pilchuck Fire Lookout, Lake 22, Big Four Ice Caves, Heather Lake and many more hikes nearby, this is an amazing spot for your wedding day.
Villa on Top of the World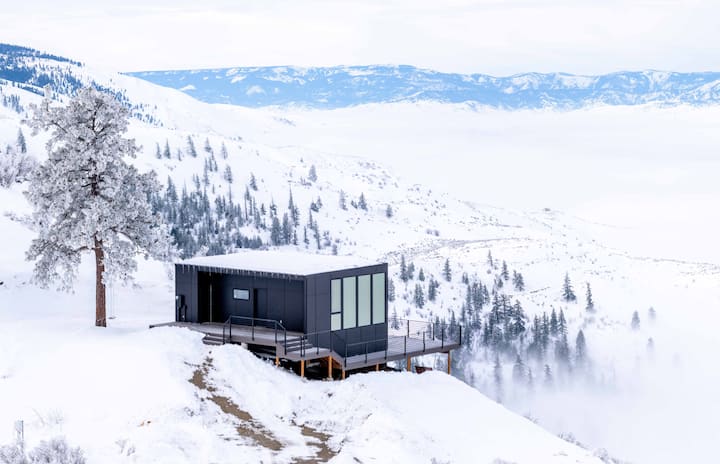 Location: Waterville
Price: $434/night
Guests: 2
With 360 degree views of the valley, this incredible house is the perfect secluded elopement getaway any time of the year! Located only an hour from Leavenworth, there are infinite choices for hiking, snowshoeing, rafting, kayaking, and backpacking nearby.
Hansel Creek Tree House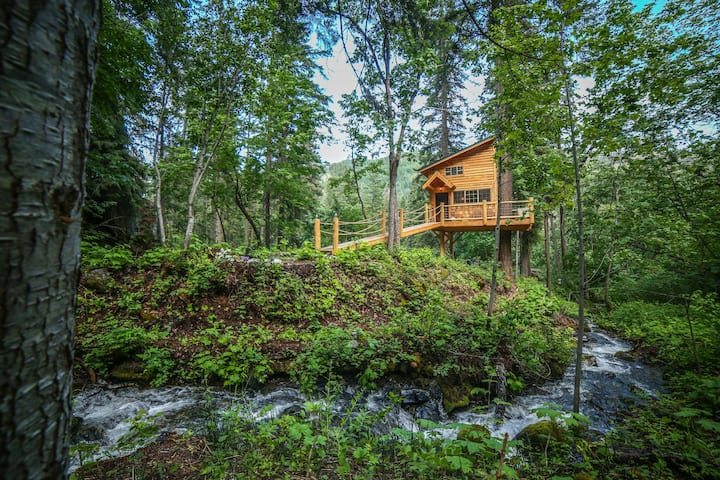 Location: Peshastin
Price: $218/night
Guests: 3
15 minutes from Leavenworth, this gorgeous treehouse on 150 acres would be the perfect place to stay for your elopement. With the Alpine Lakes Wilderness nearby, there are too many hikes to choose from! You could kayak or paddle board on Lake Wenatchee in the summer, or snowshoe and cross-country ski in the winter. Leavenworth has an amazing Oktoberfest in the fall, where you could feel like you're eloping in Germany without leaving the US. Peshastin also has some of the best wineries in Washington!
Wander A Frame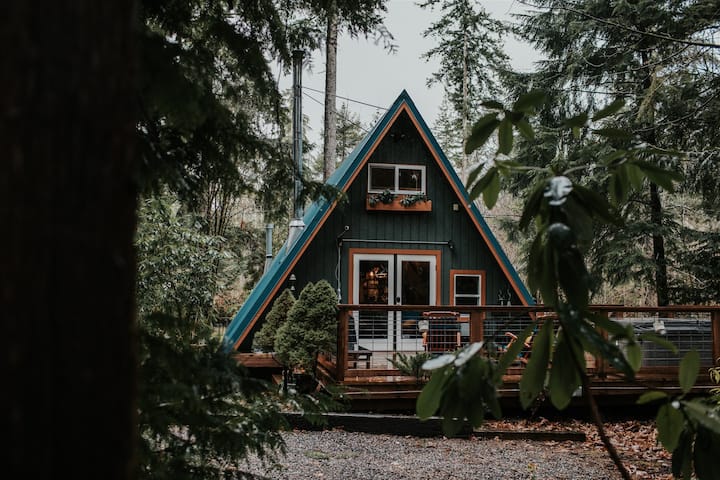 Location: Maple Falls
Price: $156/night
Guests: 4
Located near Mt. Baker, hiking, fishing, kayaking, rafting, skiing, snowboarding, and snowshoeing are right outside the door! Artist Point is one of the most epic elopement locations ever and its less than an hour away! Plus nothing beats getting your photo taken in front of an A-frame
Eagles Nest Treehouse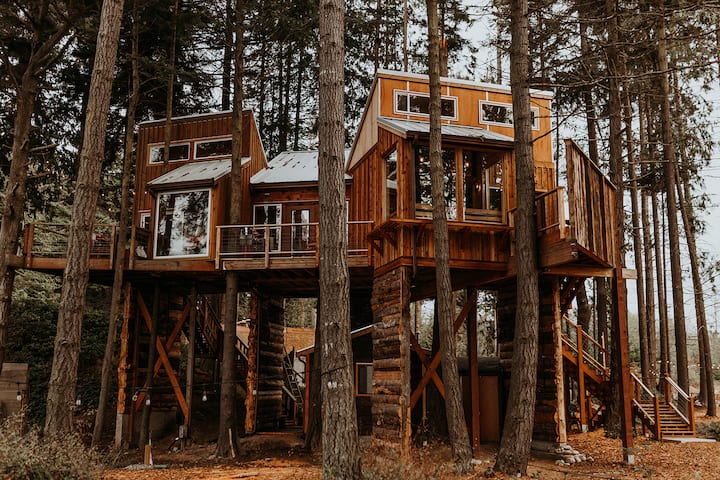 Location: Port Angeles
Price: $529/night
Guests: 6
This epic treehouse is located right on the ocean in Port Angeles! Just minutes to some of the most spectacular hikes in Olympic National Park. Some of my favorite locations for an elopement are Mt. Storm King, the Hoh Rainforest, and Ruby Beach. The treehouse itself would be an amazing place for some whimsical getting ready photos! This is easily one of the most unique and best Airbnb's in Washington!
Sky Haus
Location: Skykomish
Price: $352/night
Guests: 4
This cozy A-frame is one of the most popular Airbnb's in Washington- and for good reason! Imagine soaking in the hot tub after a busy day of hiking, rafting, or skiing. An amazing place to get ready for your elopement day and unwind after celebrating your new marriage! Many amazing hikes are located nearby; Barclay Lake,
Scandinavian-Style Luxury in the North Cascades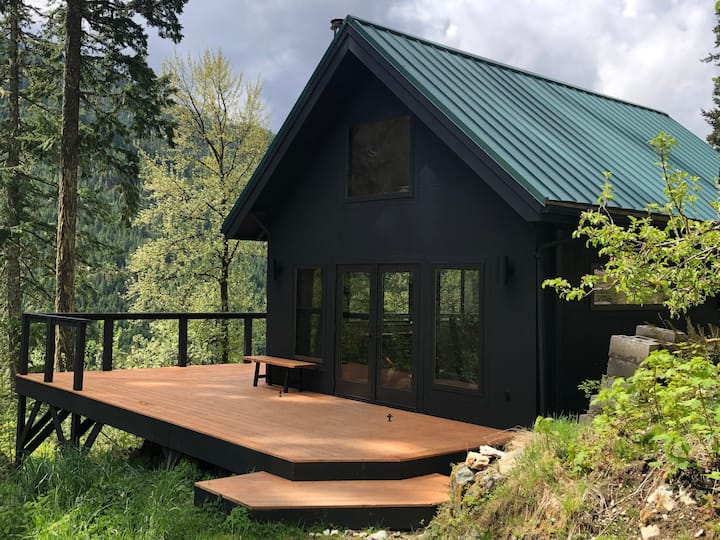 Location: Marblemount
Price: $296/night
Guests: 2
Only 30 minutes to Diablo Lake, this amazing house has incredible views and would be an amazing place to stay for your elopement! You can listen to the sound of the Cascade River while sitting on their amazing deck, looking out at the incredible mountains surrounding you. A very private and special place to stay!
Need help planning your Washington elopement?
With so many amazing places to stay for your elopement in Washington, it's almost impossible to choose! Your first step should be to decide on a location, whether that is Mt. Rainier National Park, somewhere remote in the North Cascades, or on a lake at Olympic National Park. Then you can find the perfect Airbnb and check in with the host if you plan on having photos taken there or a reception dinner with your closest friends and family. If you need help finding the best Airbnb's in Washington for your elopement day, contact me to start planning!